Hey, All! Brittany here with an awesome tutorial for the
Confident Beginner
. I am going to show you how to sew a kids cloak from a twin sheet. You can also use a tablecloth or curtain if it is about 60 inches wide and at least 54" long. If you feel like you are ready to tackle a project with a very simple lining (just the hood) and some super basic pattern drafting (again, just the hood), then this is the perfect project for you.
In today's post I'll go over purchasing appropriate fabric and drafting the hood pattern. In next week's post I'll go over cutting out the pieces and the cape construction.
Materials for the Cape
Tablecloth, curtain or twin flat sheet about 60" wide and at least 54" long
Lining fabric (optional - you can just use your main fabric)
Thread
A selection of tablecloths and curtains for upcycling.
Choosing and Buying Fabric - Upcycling Edition
I am a huge fan of upcycling for so many reasons, not the least of which is that you can get really great fabrics for super cheap when you hit the thrift stores. However, there are a few key things to look for when you are shopping for fabrics for an upcycling project. This will help you avoid buying something you can't use.
Check to make sure there are no places that are worn thin. This is very common on sheets.
For tablecloths especially, check for food stains.
Sometimes curtains can have faded spots if they were hanging for a long time.
Make sure to check for pilling, particularly on polyester.
I usually take all my pieces up by the windows and unfold them to check them in the bright light. Don't get something that is really stiff for this project because it will be difficult to gather. If you can find pieces that have all the hems are in good condition you can save yourself some work. However, don't rule a piece out just because it has a loose or torn hem. We can work around that.
If you are a new sewer, avoid something smooth and shiny. These fabrics tend to slide around a bit when you are sewing and can get really annoying if you aren't used to working with them. Stick to something with some texture. Also, cottons tend to be very easy to work with. Check the tags for fiber content.
I wouldn't recommend getting anything that that is labelled "dry clean only." You want to wash your fabric on the hottest setting when you bring it home. I have a sanitize setting on my washer. Dry it and pull it out as soon as the dryer stops to help reduce wrinkles and then go iron it.
Instructions - Drafting the Pattern
Materials for Drafting
Paper - I use this this* medical table paper because it is super cheap to buy in bulk. You can just tape printer paper pieces together or cut open a paper grocery bag. You can buy special pattern making paper with a grid but I have never bothered. (*I'm not affiliated with amazon, I just like to shop there.)
Pencils
Quilting ruler or measuring tape. The quilting rulers make it much easier to get perpendicular lines and measure straight across if your paper isn't gridded.
Optional

French curves - you can easily free hand the line if you don't have french curves
Measurements to Take
The first part of this project involves drafting a pattern for the cloak's hood. We need a couple measurements. You can download a printable worksheet for the math
here
.
Neck Circumference - Don't take it super tight or super loose. We will add in ease when we draft it.
Head Circumference - Measure around the widest part of the head.
Face Width - Measure across the face at about eye level.
Shoulder to Shoulder - Measure up from the shoulder over the top of the head and down to the other shoulder.
| | | |
| --- | --- | --- |
| | | 12" |
| | | 20" |
| | | 4" |
| | Shoulder Over Head to Other Shoulder | 22" |
Here Comes the (Super Basic) Math. Don't be scared!
We will draft the pattern for 1/2 the hood and then cut out 2 to sew together. I used measurements from my 6 year old. My calculations using my numbers are in parenthesis.




A = Neck Circumference

÷ 2 = _____ +

1" for ease = _____ (7")

B = Shoulder to Shoulder ÷ 2 = _____ + 1" for ease = _____ (12")

D = Head Circumference - Face Width = _____

÷ 2 = _____

(8")



Drafting the Pattern
1. Draw 2 lines perpendicular to one another. These are your axes.
2. Plot measurement A along the X axis.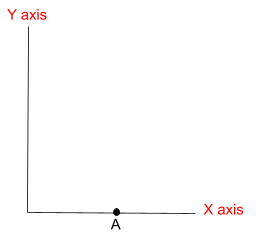 3. Plot measurement B along the Y axis.
4.
Plot measurement C on the Y axis.
5. Then measure perpendicular to the Y axis and plot distance D.
6. Now is the time to use your French curves if you have them. If not, you can freehand it. Draw a curve connecting these 3 points. Start out fairly flat from point B and curve into point D and then down to Point A. Notice how the curve goes out past point D.
7. Our final step is to add ½ inch seam allowances around the edge of the entire pattern.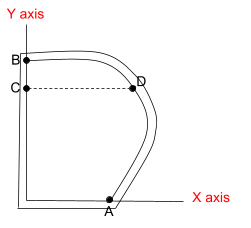 We are done! I'll be back next week with instructions for cutting and construction.